One of my dream job is to be a part of a movie where you are acquired on an advertising team who creates the whole concept of the movie poster. Everytime I watch a movie, I usually look for the poster first. The movie poster will eventually catch a viewer's attention. The poster's theme, on the other hand, should generally fit the movie.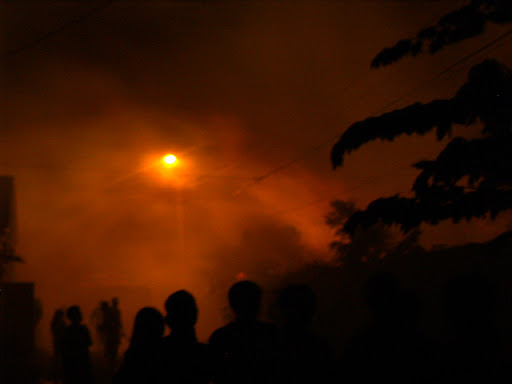 I recently took shot of a busy crowd observing a bushfire near our place, sadly, when I viewed the photo in my computer it was slightly out of focus. Since I forgot to set the photo in a higher quality, I end up hitting VGA. Fortunately, instead of trashing it out, someone inspired me to create a horror movie poster out of it. My younger brother told me that the people in this photo look liked
ZOMBIES
. From that moment, the idea on creating a conceptual movie poster buzzed me.
With online resources, I've come up with this:
Here are some few tips in creating the movie poster you ever wanted to make. You're hoax HORROR MOVIE POSTER:
1.)
choosing a BACKGROUND
that will dominate the viewer's eye. In my version, I used the photo above.
2.)
download various GRUNGE TEXTURES
to make your background more appealing.
3.)
Apply blending options and the basic filters of Photoshop.
Experiment to achieve your desired output. Adding noise on the background can be a good way.
4.)
Enhance the levels and curves of the photo.
In this way, the contrast between the photo and the title itself would be high.
5.)
Font that would fit a HORROR MOVIE.
In the title of the movie poster I created, I used
Living Hell font
to fit the grungy background.
6.)
Adding subtitle.
Aside from the the title add a subtitle that will drive viewers to curiosity. I used the subtitle, "Who will survive and what will be left of them?" from the old Texas Chainsaw Massacre. If your title's font is bold, the subtitle should not be as thick and as big as the title, or vice versa.
7.)
The credits.
It's either located at the top or at the bottom of the poster. In my homemade horror poster, I just cut out a credit portion of the another movie poster. If you want to create your own "credits" part, the common font used is
UniversLT font
. The color of your credits font should match the background.
In case you wanted to study how I created my own Horror Movie poster, you can
download the PSD file here
.
These are the basic steps to start of your own Horror Movie poster, who knows, someone out there would discover them up! Buzz me if you got one!
Done reading? If you liked my posts, then:
Click here to
Subscribe to FREE email updates
from "Kristan Franco", you wouldn't want to miss out anything that can be valuable to you and your blog, would you?