Using only one photo, you can create an impact by making it look like combined by many photos. The right term for this one is "collage". This is a very simple Photoshop tutorial. Here's how it looks like.

From this: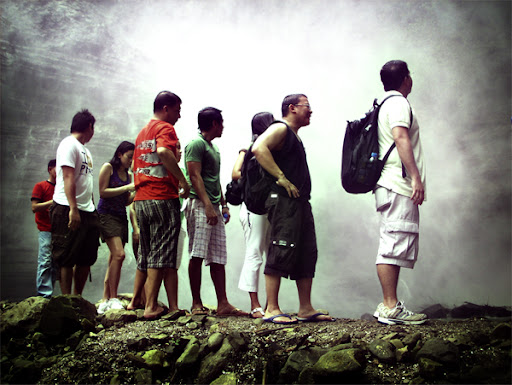 To this:
Here's how to create the trick in Photoshop:
1.) Choose a photo with good points. Photo with people in it is a good example.
2.) Create a new layer, and name it as "background". (ctrl + shift + N)
3.) Transform (ctrl + T) the photo into a smaller size than the canvas size to work with the "polaroid photo" easier. I filled the background layer with blue to distinguish photos from the background.
4.) Use the rectangular marquee tool (M) to create a selection on the photo. After selecting a portion, be sure to duplicate that portion (ctrl + j) to create its layer.
5.) After duplicating, tilt the smaller photo to make it more realistic.
6.) Right click the duplicated layer and go to BLENDING OPTIONS. Check the stroke and adjust the values you preferred.
7.) After adding stroke, add a drop shadow to make it more realistic.
8.) Repeat steps 4 to 7, but be sure to use the other portions of the photo until most of the "polaroid" photos cover the large photo. Tilt them in different angles.
9.) Hide the larger photo (click the eye icon of that layer) to leave the smaller ones into their places.
FINAL IMAGE:
In this final image, I change the background color from blue to black.
Want more? Be sure to
subscribe
in this blog to receive updates about some of my knowledge on basic Photoshop tutorials.